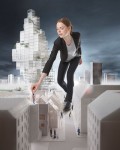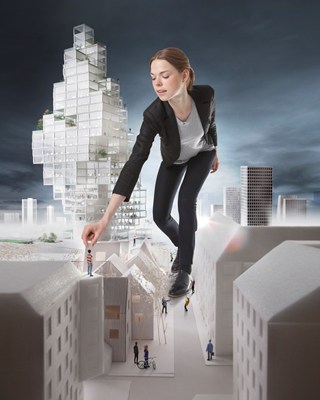 Step into the architecture model
Discover models from above, from below, from within and from a distance, from the budding idea, through failed and successful experiments and leading to the final solution.As a visitor you will be even a part of an architecture model. The entire exhibition space is designed as a model in the ratio 2:1.A real working model, where the architect's hand-drawn lines and notes are evident on walls and floors.
"It takes a special work to step into a model. You have to lift the model up and put your eye right up to a window, so as to be able to enter the room there. When we look at the model, so we tread as Alice in Wonderland deep, deep into the model., we look at the light falling., we are looking at the dimensions of surfaces and distances between walls. It is only in the model that we can really find some opportunities that did not exist before we began. " 
Karsten Gori, architect MAA, Leth & Gori.
Behind the exhibited models are architectural firms:
ADEPT, AREA, BIG, Cebra, Christensen & Co.. Architects, COBE, Dorte Mandrup Architects, POWER, Electrotexture, Elkiær + Ebbe Forest, Henning Larsen Architects, LETH & GORI, MLRP, NORD Architects, Schmidt Hammer Lassen, SLETH, Vilhelm Lauritzen Architects, WE architecture and CITA (Centre for IT and Architecture / School of Architecture in Copenhagen).
CVR no 7880 5218 
Strand 27B DK 
1401 Copenhagen K 
T 3257 1930
1760 total views, 1 today