Relisting
Why does Presenting Architecture have you reverify your listing? The value of the site to potential clients is accuracy and relevancy. No other site is as comprehensive or has the oversight of Presenting Architecture. All listings need to be relisted after one year. Please follow this process to relist your ad.
See if you are logged in to the site. 

Login at: https://presentingarchitecture.com/dashboard/ .
If you do not remember your password, you can have it emailed to you.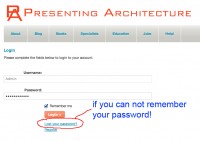 Once logged in, click on 'My Dashboard' on top right of the screen.

You should then see your listing, and at right of it click on 'Relist Ad'. 

On the next page click 'Go'.

On the next page, scroll to bottom and click on 'continue'. 

Please note that yes this is an ad, but FREE unless you want to be Featured.
On the bottom of the next page, click 'proceed'.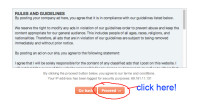 While you are at it please take a little extra time to update your listing by pressing on the

 icon.
Please let me know if you have any questions or comments on the site, [email protected].