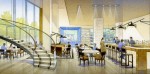 Illustration by Anna Gibb
Presenting Architecture will look for this event next year, to bad I missed this but the site is new.  This competition was for hand drawn work only as a counter to the onslaught of digital work in architecture.
See for yourself the competition info on the Royal Glasgow Institute web site:  http://www.royalglasgowinstitute.org/kellypast.html
And a write up in Urban Realm:  http://www.urbanrealm.com/news/2664/RGI_drawing_competition_winners_revealed.html
Congratulations to the prize winners!
First Prize
Joint award to:
Cathedral, Michal Supron
Emergence and Locomotion, Niall Patterson
Runner up prize
Redsands, Ross Anderson
Glasgow: As it was, as it is and as it might be, Anna Gibb
Untitled 1, Laurence Wood
Commendations
Untitled, Ross Anderson
Aberdeen, Robin Webster
Sketch Studies for Holiday House Design, Vas Piyasena
1441 total views, 1 today