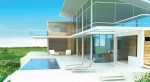 Here is an article worth passing around and hopefully a great new book.  Reviews of this new book are welcomed!
Architects' Sketchbooks: Back to the drawing board
An intriguing new book delves into the notepads of leading architects to show the sketchy origins of some truly monumental buildings By Alice Jones
Buy this book through Presenting Architecture's Book Store at Amazon.com here: https://presentingarchitecture.com/architectural-presentation-books/architectural-rendering-traditional-media-books/ look in the Portfolios area.
2320 total views, 1 today